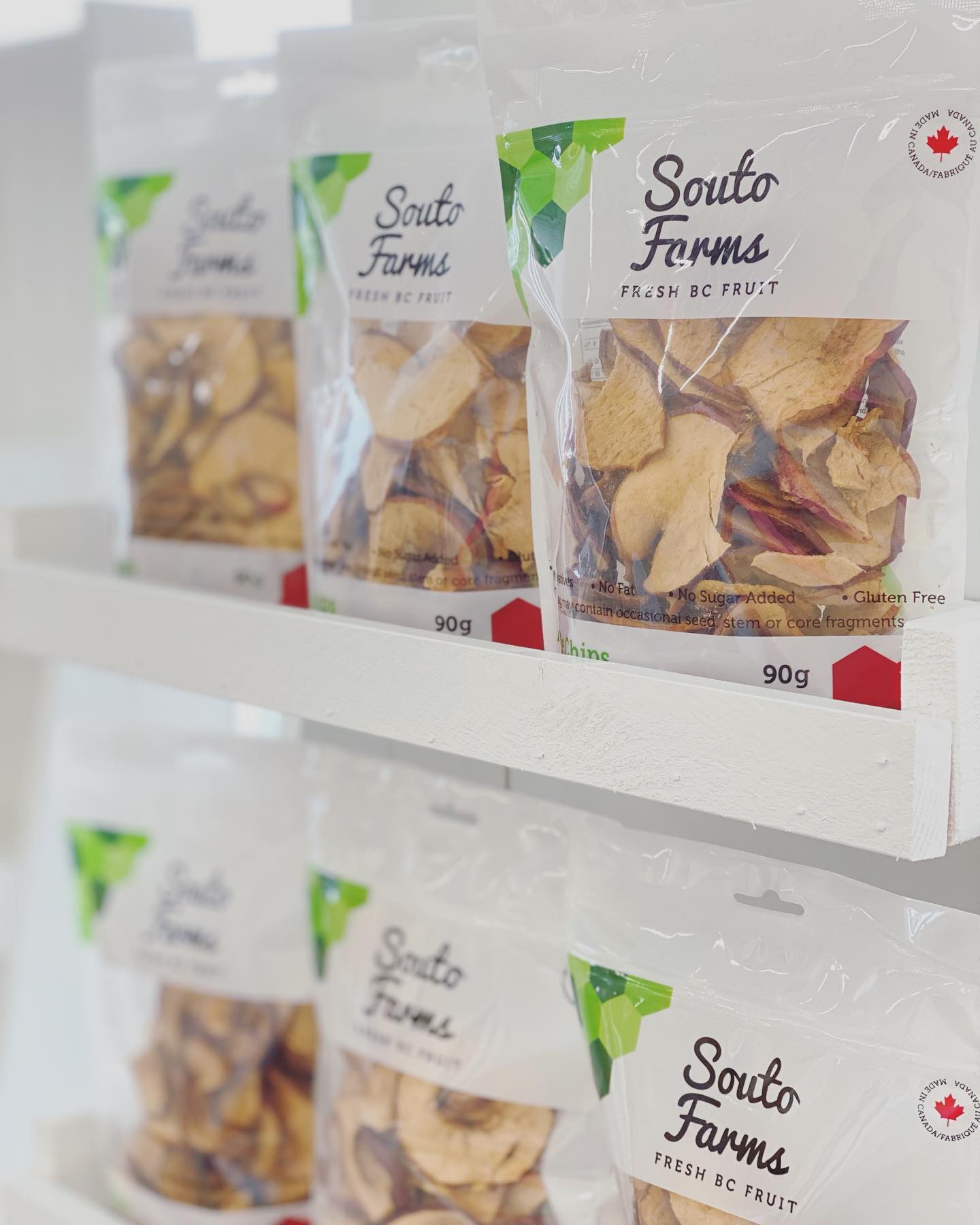 In 2019, Chris and Melissa perfected the dehydrated apple chip. While overcoming many obstacles along their way, they built their ideal apple chip factory, purchased all required Canadian Standard Approved equipment, put their heads down and got to work... with many attempts and long nights, they are proud to bring these to any setting.
With no sugar or preservatives added, this brings a healthy, tasty snack wherever you go.
"Knowing the apples come from our own farm in Oliver, BC, we always know how good the quality is, and that is our top priority for customers".
Using top grade Okanagan apples from their 3rd generation farm, they have made the chip slightly thinner. Might not seem like much, but this has brought out a sensational crunch, while still keeping it juicy.
Teaming up with Loblaws, you can now find regular and cinnamon chips in stores, any of their markets, or online. We promise you you'll be back for more.
Dehydrated Products
Having our own farms means that sometimes there is excess fruit. Over the years, we've been constantly working to reduce waste and to find creative means of selling excess fruit. This is what led us to begin dehydrating apples for chips, and eventually building our own chip-making facility. Now we have expanded to also offer dehydrated cherries and prunes, and fruit leathers. You can find these products at our store location, or one of our many Alberta farmers' market locations!
Apple Chips

Our apple chips are made using our own apples, from our BC farm! With no added sugars or preservatives, these chips are the perfect snack! Available in regular or cinnamon.

Dehydrated Fruits

What's the worst part of Canadian summers? They're too short! We wish we could have our fresh fruits year-round, but the next best thing is to dehydrate them! Come to any Souto Farms location to find our dehydrated cherries and dehydrated prunes. Made with fruit from our family farm in BC, with no added sugars or preservatives.

Fruit Leathers

Our fruit leathers are the perfect snack for on-the-go. Bring them to the office, school lunches, soccer games, and more! Made using fruit from our BC farm, with no added sugars or preservatives.